By Christene Barberich & Willow Lindley
We're all about making things simple. THE perfect party dress? Bring it on. The lazy girl's guide to a dummy-proof updo? We're there…with jingle bells on. But, there's nothing like facing your closet for the umpteenth holiday party — with zero time to spare and two weeks left in the Champagne marathon — to leave you feeling more than a little over it.
Kate Bosworth New Face of Topshop
In fact, in a recent edit meeting, a handful of editors lamented this very challenge…fantasizing about a magical tool-kit that could easily (and affordably) multiply our holiday outfit options while being right on trend with winter's most runway-worthy themes.
And…POOF! We'd like to introduce you to our new Holiday Trend Kit, a four-piece planning powerhouse that puts the season's best on-trend accessories front and center, making that trusty party dress, jumpsuit, peplum skirt, whatever, shiny and new again. Nothing complicated here, just great, easy pieces that pack a punch and provide that essential blueprint for pulling your favorite pieces together in a fresh way. Maybe it's not the Céline bag on your lust list, but consider this nifty roundup our little gift to you.
Metallic Clutch — Simple yet arresting, the metallic clutch can be worn with more feminine dresses or masculine suits. We love the idea of wearing it with velvet for a modern update on the Le Smoking.
River Island Silver Metallic Oversized Clutch Bag, $24.07, available at River Island.
Clockwise from top left: Mango Velvet Sartorial Blazer and Tailored Velvet Trousers, $79.99-$129.99, available at Mango; Derek Lam White Silk Top with Black Embroidery, $545, available at Stylebop; Topshop Rubies Gem High Vamp Sandals, $110, available at Topshop.
The best thing about this clutch is that it can work for daytime, too. Big enough to hold the essentials (leave your snacks at home for once, guys!), the clutch allows you to elevate your everyday work-to-party outfits in an unfussy way.
Clockwise from top left: Chicnova Beige Double Breasted Trench with Waist Belt, $154.80, available at Chicnova; Uniqlo Women Skinny Fit Ankle Length Jean, $39.90, available at Uniqlo; J.Crew Collection Cashmere Colorblock Turtleneck, $169.99, available at J.Crew; AllSaints Rogue Court 125 Heel, $250, available at AllSaints
---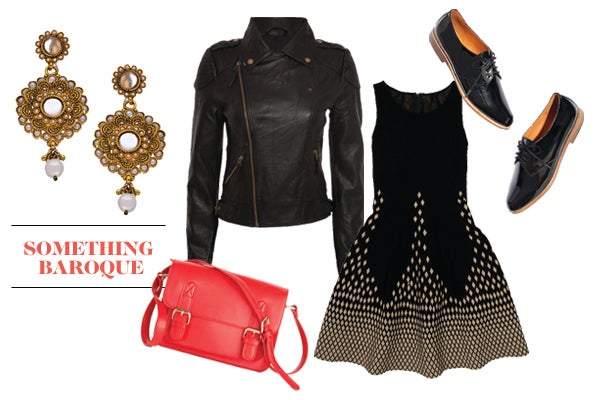 Something Baroque — To keep a mix of tough and delicate, lavish and laid-back, pair a bit of Baroque with down-to-earth lace-up flats, a leather jacket, and other go-to pieces. The results are instant glamour without all the foof.
Clockwise from top left: Crafted Pu Biker Jacket, $81, available at Republic; Madewell Bobbie Oxford in patent, $165, available at Madewell; Gig Brasil Fit and Flare Gold Lurex Tank Dress, $660, available at Intermix; ModCloth In So Mini Words, $59.99, available at ModCloth.